Retired: This application has been retired and is no longer for sale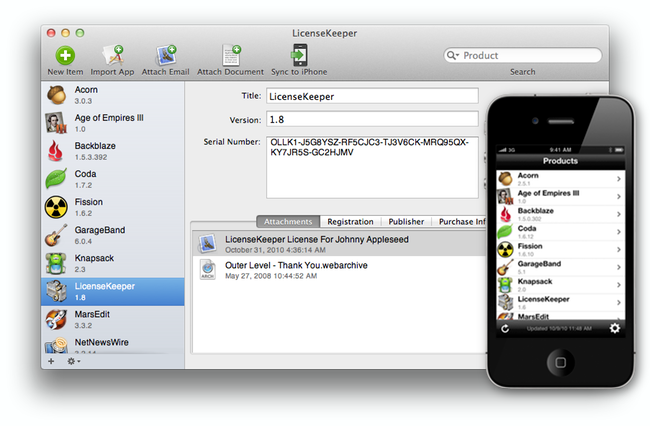 Keep your serial numbers safe.
Capture and organize your valuable software assets.
Get Organized
Keep track of all information related to your purchased applications, games, and other software.
Manage serial numbers, license files, receipts, purchase history, and registration information.
LicenseKeeper organizes all your information in a straight forward, easy to find manner.
Import App Information
Quickly import software and registration information with a click of a button or using Drag & Drop.
Attach email from Apple Mail, Entourage, or PowerMail directly to your app entries.
Import data from your legacy management system via XML or delimited text files.
Scan for Serial Numbers
Scan registration email for serial numbers, license keys, and other registration information.
LicenseKeeper automatically places serial numbers on to the clipboard ready for your new application's registration form. No more lost or mistyped serial numbers.
Sync to iPhone
Sync with your iPhone or iPod Touch and take your data with you.
LicenseKeeper easily syncs your library using Dropbox.
Fast Search
Your registration information is available, searchable, and ready when you need it most.
Print Detailed Reports
Send detailed reports straight to your printer or save them as PDF
Auto-fill user information
Through Mac OS X Address Book integration, LicenseKeeper auto-fills your registration information from your work or home entries.
Auto-Save your data
Your data is safe. LicenseKeeper auto-saves your data even when you forget to.
Data Export
Easily export your library to common human-readable file formats — even if you decide not to buy.