Retired: This application has been retired and is no longer for sale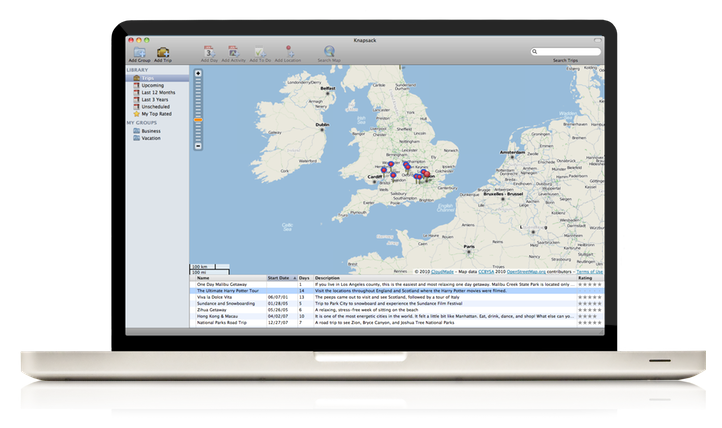 Meet your personal travel planner.
Plan, journal, and relive your greatest adventures.


Research
Search the world for interesting places, points of interest, or even a friend's street address.
Search the World
The powerful Map Search feature in Knapsack 2 lets you quickly find places, addresses, and even points of interest anywhere in the world. Locate cities, hotels, museums, airports, and more. Map Search uses an extensive online geographic database that is constantly improving.
Zoom from Continents to Streets
Knapsack's incredibly detailed world map let's you view your trip's destinations at any level of detail. Get an overview of your trip or zoom in to see all the parking lots near your hotel.


Plan
Create detailed multi-day itineraries with scheduled activities and todo lists.
Create Detailed Itineraries
Plan the ultimate family vacation, your next business trip, or your dream getaway. Lay out your travel plans, destinations, activities, and even your packing lists. Fill your days with scheduled events and keep a list of all things you hope to do. When you return from your travels, add notes and photos to create a memory of your trip.
Plan Your Schedule
Whether you're scuba diving in Belize or hiking across Europe, you can lay out your plan for each day.

With the flexible itinerary planner you can build an itinerary with as much or as little detail as you need. Shuffle activities between days or even rearrange your entire schedule.

Create Todo Lists
As you plan your trip, use todo lists to keep track of all your unfinished business.

Create packing lists, shopping lists, or lists of all the things that you need to do before you leave. Check each item off as you complete it to track your progress. Never forget your toothbrush or camera again.


Organize
Use the built-in smart groups or create your own custom groups to keep organized.
Smart Groups
Built-in smart groups automatically show your upcoming, recent, unscheduled, and top-rated trips. Your travel plans have never been so organized.
Create Custom Groups
Create your own groups to categorize your trips. Create a group called "Europe" and drag all your European vacations there. Or, use a group called "Business Trips" to organize those not-for-pleasure excursions.
Star Ratings
Rate your trips and easily review your favorite adventures.
Sync with iCal
Sync your trip with a new or existing iCal calendar. Update your activities or to do items in iCal or Knapsack and the changes are immediately synchronized. Take your trip's schedule with you on your iPhone or iPad and make changes while you're traveling. When you return and sync with iCal, your changes are automatically made in Knapsack. Alternatively, publish your trip to iCal with a one-way export.
Print your itinerary and go
Take your printed itinerary with you so you can reference each days activities without having to lug around your gear.
Share your Trips
Export Knapsack trips or Email your itinerary as a PDF.

Revisit
Review trip highlights with postcards for each pin on your map.
Stick a Pin on the Map
Just as you might stick a pin on a map to mark a spot that you've visited, you can use the map in Knapsack to place pins that represent locations from your trips.
Trip Summary
Every great adventure deserves a title and caption that you can show off on your world map.
Trip Photos
Add a photo to any location, activity or journal entry. The photo will be copied into your trip and will be displayed with the rest of your trip's information. It will even included when printing your trip.
Postcards
Click on any map pin to see a postcard from that location. Location postcards give you a place to describe each destination in your trip. Add your own photo to memorialize your experience.